Drawing & Painting Classes, adults & children.
Travel Sketchbook Workshops.
Creative Birthday Parties.
Private Courses upon request.
Classes are taught in French & English.
Artworks for Sale. Portraits, landscape, architecture & urban streetscape. Ink and watercolor, oil or acrylic paintings upon order.
Studio Pauline Fraisse Art & Culture Drawing & Painting Lessons
As a painter, I have been teaching since 2010 at my Paris studio, as well as in historical places and other parts of France.
I work for companies, offering teambuilding activities, incentive workshops and illustrations.
I am a former Hypokhâgne and Khâgne student (intensive degree in literature and humanities), I studied at Brown University and graduated from Sorbonne University and City of Paris Adult Education.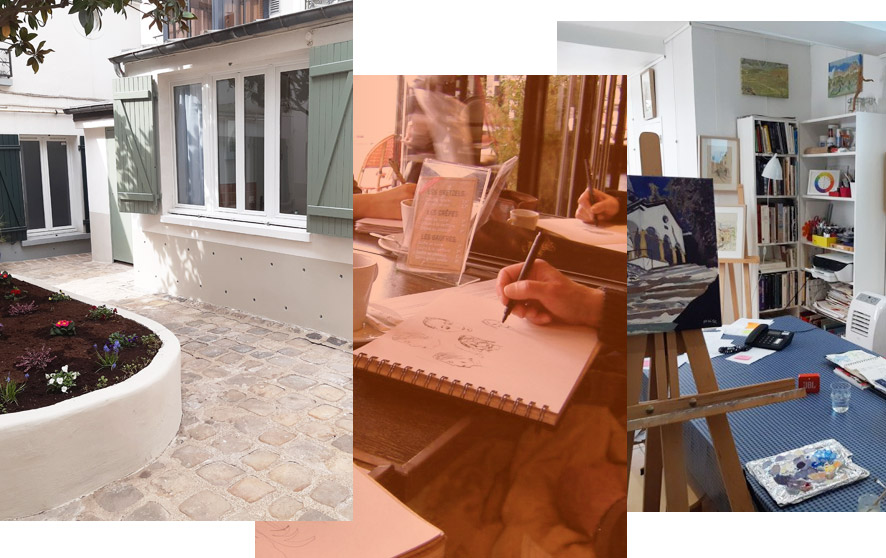 Book Your Art Classes
Weekly courses in small groups
Private courses upon request. Classes are taught in French & English

In small groups (3 to 6 persons/group), these courses focus on drawing and/or watercolor techniques. Felt pens, color pencils, pastels and charcoal are possible too!
I can help you work on technical aspects of your choice (color, perspective...), or develop a project (travel journal, illustrated story...).
Enjoy an extra free class when purchasing 6 classes. For 7 persons and more: contact me for group prices.
Order Your
Art Supplies
Offer a gift-certificate for a class or workshop! You will receive a voucher with the person's name on it, and a coupon code that will allow her to book on the date of her choice.

Creative Teambuildings and Incentives for Your Team
PF Art & Culture worked for the Louvre Museum, Fujifilm, La Vie du Rail, APM (Association for the Progress of Management)…

Paintings & Illustrations
Commission original artwork! Upon request, I can do ink and watercolor illustrations, or original watercolor, acrylic or oil paintings

Videos
Visit our YouTube channel for examples of online courses and step by step drawings

Online Course: Learn How to Draw the Eiffel Tower
Step by Step Watercolor Sketch